Laser Surgery
Since its introduction in the 1980s, several different laser vision correction treatments were developed, each with its own unique characteristics, advantages and disadvantages. The treatment techniques include PRK, Lasik, Smile and variations on each of these themes.
Since many different variables will determine the optimal type of laser treatment for your particular set of circumstances, the preferred procedure for each eye can only be decided after a thorough examination. With about 20 years of experience in the field of corneal refractive laser corrections, Dr Potgieter is uniquely qualified to recommend and perform the type of procedure that will give you the best possible outcome.
P.R.K.
PRK is the acronym for Photo Refractive Keratectomy. It is the first laser vision treatment developed in 1988 to permanently correct vision and today remains the preferred treatment option for patients whose corneas are too thin for Lasik.
PRK differs from other laser treatments in that the treatment is applied directly on the surface of the cornea. The permanently reshaped cornea corrects the refractive error.
Although the initial healing phase is significantly longer, the visual end-result is similar to Lasik.
The name of this treatment may sound complex, but the treatment in itself is fairly simple.
The first Photo Refractive Keratectomy (PRK) procedure was performed in 1988 and has proven itself to be safe, highly accurate and has yielded excellent results. In certain cases, like marginally thin corneas, PRK is still the preferred method of treatment.
Procedure: The epithelial layer on the surface of the cornea is removed whereafter the exposed surface of the cornea is reshaped with an excimer laser. A 'bandage' contact lens is placed on the cornea to promote healing. After about 72 hours, when the epithelium has healed, the contact lens is removed.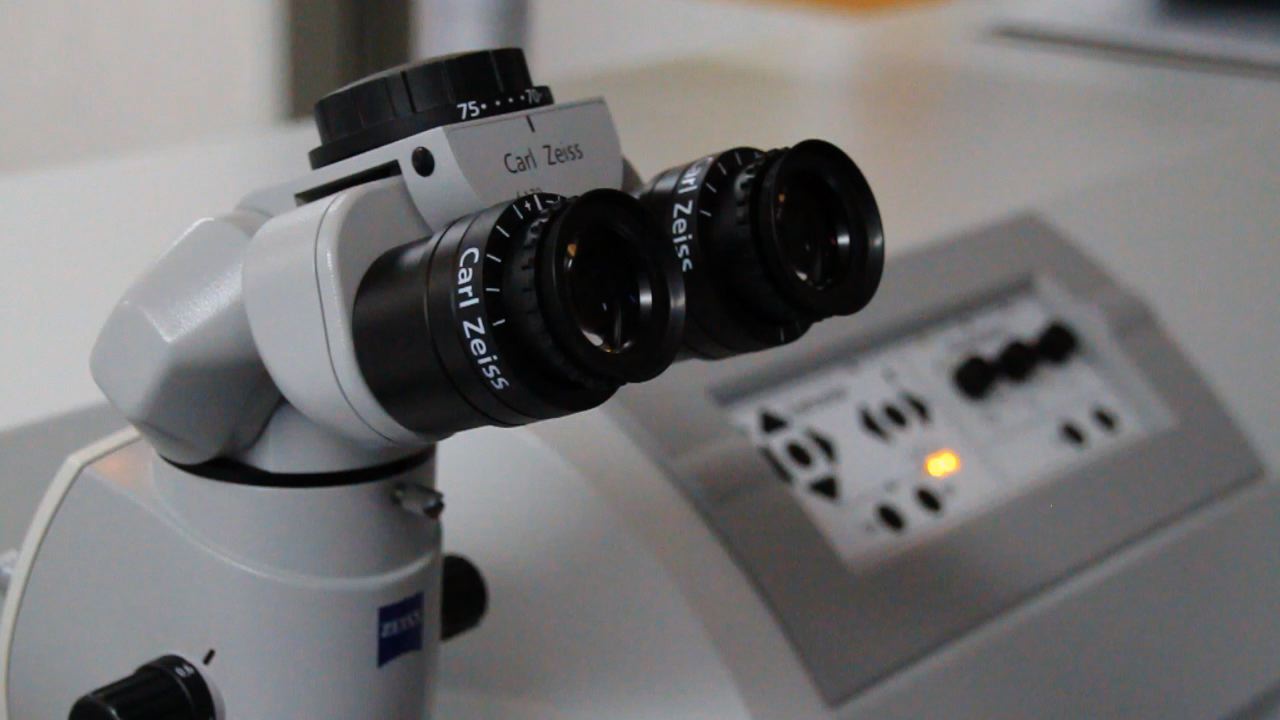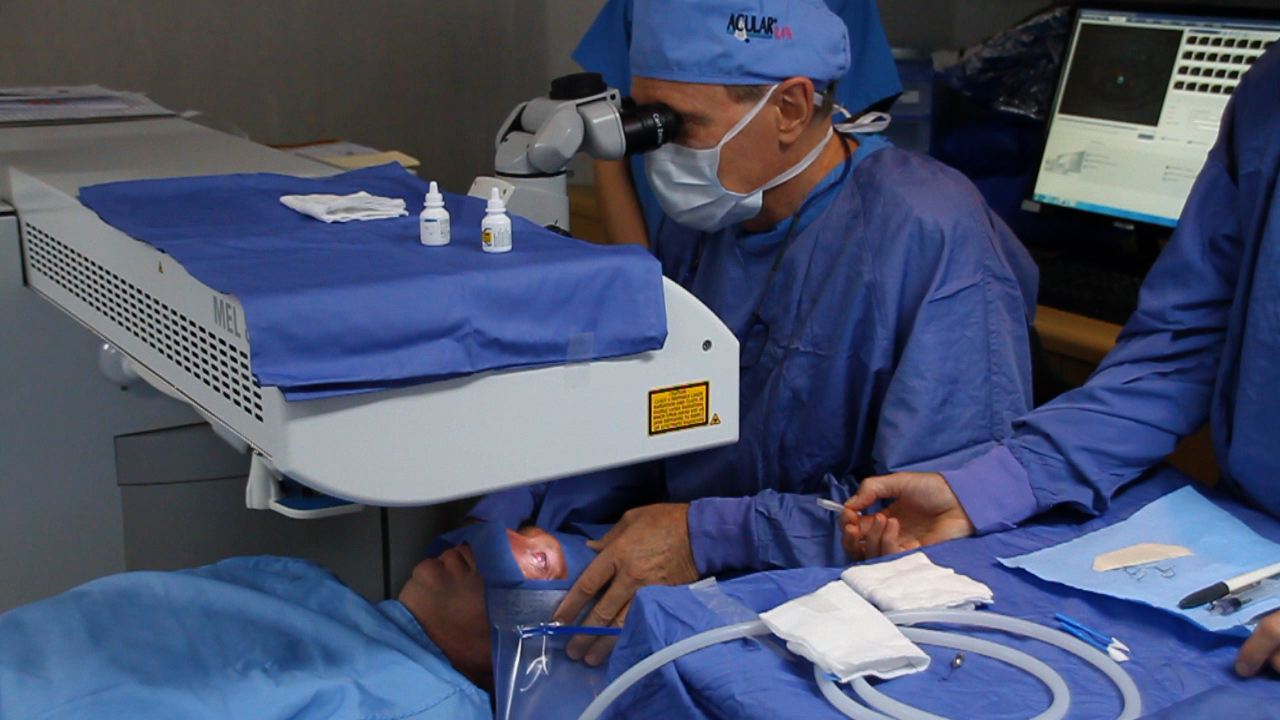 ---
ADVANTAGES OF PRK
Since PRK is a surface treatment, the biomechanical integrity of the cornea remains largely intact.

Due to the simplicity of the technique, PRK is still the most economical option for corneal laser vision correction.
---
RELATIVE DISADVANTAGES OF PRK
The recovery period for stable vision is longer compared to other corneal laser techniques, with some discomfort during the first 72 hours.

Because of the longer recovery time, we only treat one eye at a time, as you will need full use of your other eye while the treated eye heals.

Vision may fluctuate for up to 3 months, since the healing process of the cornea takes some time. Moreover, the epithelium has to be polished by the continuous blinking action of the eyelids. However, after two weeks most of the healing has occurred and you can expect relatively stable vision thereafter.

If a further correction is required, it should only be done after 3 months when vision has fully stabilised.

When the procedure was first introduced in the late 1980s, there was a small risk of scar formation on the cornea if the post-operative instructions were not adhered to. However, due to improved surgical techniques, good aftercare, the use of prescribed eye drops and protection of the eye against harmful UV rays, this risk today is extremely small.
L.A.S.I.K.
Lasik is the acronym for Laser-Assisted In Situ Keratomileusis. This procedure was developed to correct spectacle errors in patients with impaired uncorrected vision. Because of its very high success rate, several millions of patients worldwide have had Lasik to date.
The Lasik procedure consists of 3 main steps:
A thin flap is created in the surface layer of the cornea and folded to one side.

The exposed area is then reshaped by very accurately-targeted excimer laser pulses. Complex mathematical algorithms guide the laser to remove microscopic amounts of corneal tissue at pre-determined positions on the cornea to correct its overall curvature.

The flap is then replaced into its original position and re-attaches itself to the cornea over time.
Since the curvature of the cornea is permanently reshaped, it corrects the refractive error.
Different Lasik techniques are available to cater for different and unique patient conditions, such as standard lasik, femto-lasik, aspheric lasik, tissue-saving lasik and custom lasik.
Lasik was first introduced in the mid-1990s and has proven to be a very popular laser refractive correction method. Since then, massive strides have been made in refining the procedure, which have resulted in the development of a number of variant techniques. These variants are classified according to the way the flap is made, as well as differences in laser profiles.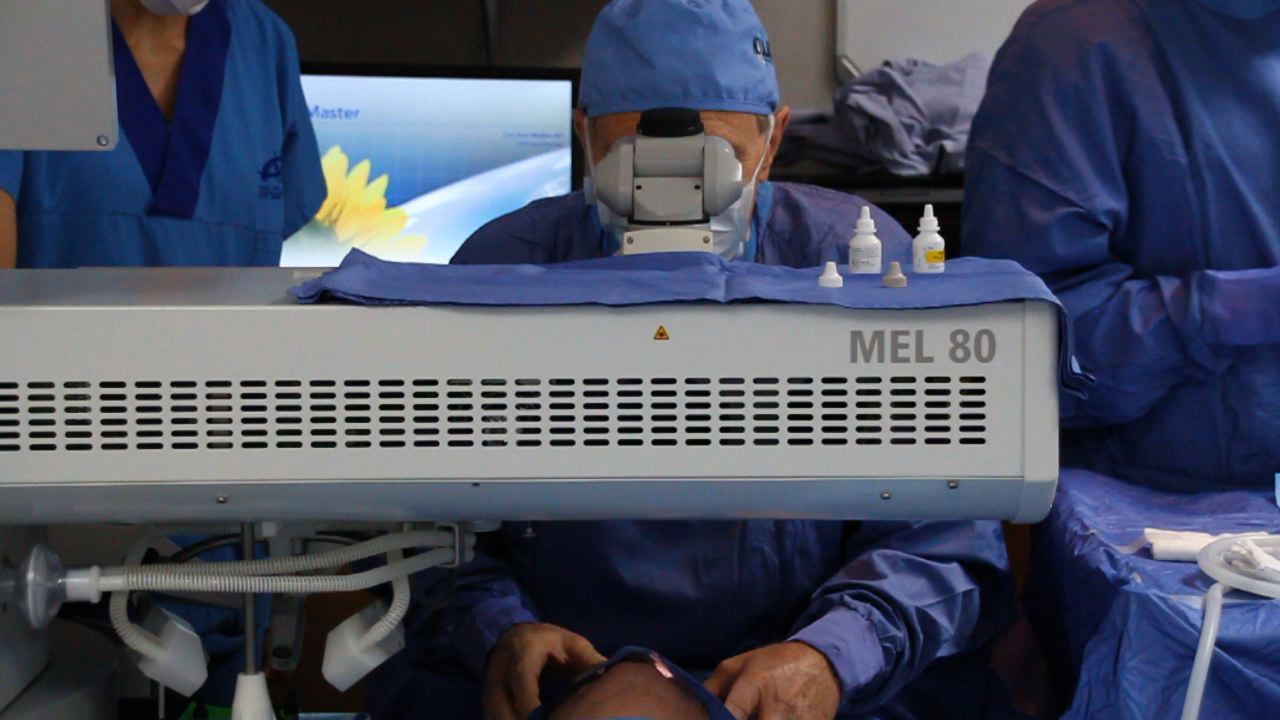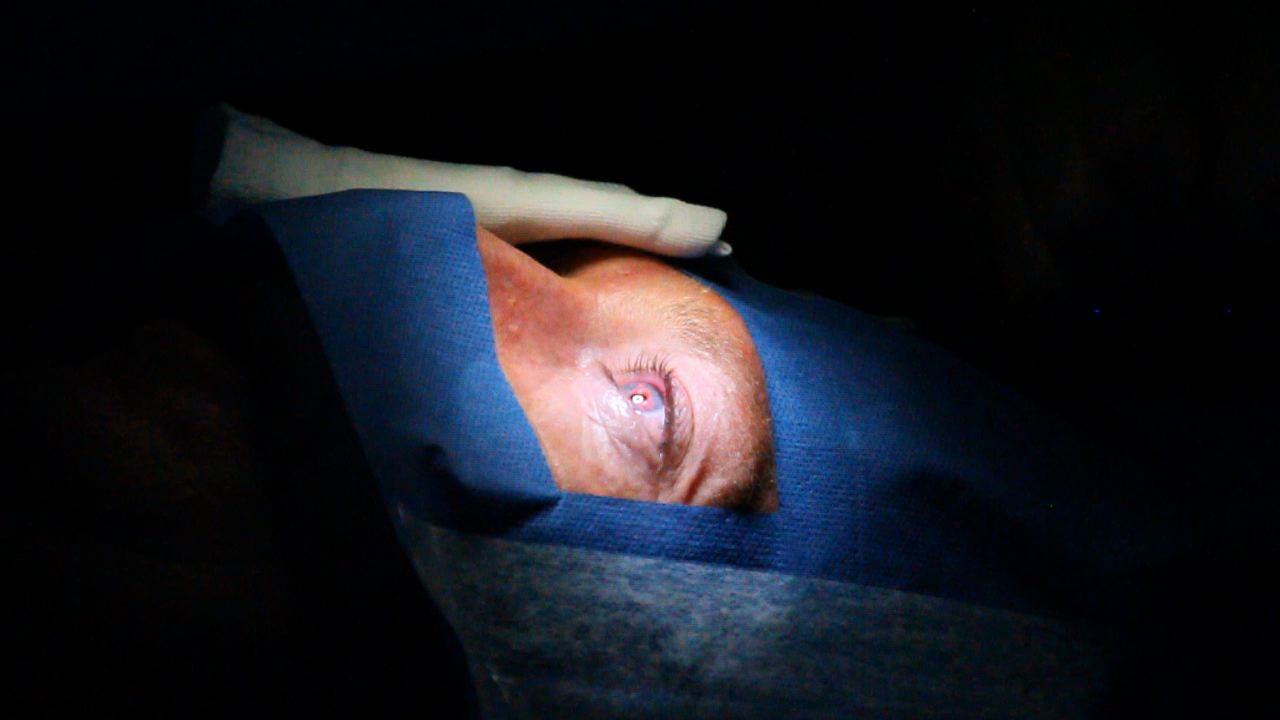 ---
Procedure
Lasik is performed underneath the hinged flap of corneal tissue. A precision microsurgical instrument, known as a Microkeratome or a Femtosecond laser is used to create a flap with a total thickness of 120 microns (0.12 mm) on the surface of the cornea. The thickness, shape and dimensions of the flap are chosen in order to preserve the overall biomechanical stability of the cornea. The hinge of the flap ensures that part of the superficial corneal nerves remain intact, which is necessary to stimulate the production of tears to keep the surface of the eye moist.
Once the flap is created and folded back, the exposed curvature of the cornea is reshaped by an excimer laser under precise computer control. The flap is then returned to its original position and re-attaches itself to the cornea over time without the need for stitches.
Note: Since the creation of a flap effectively reduces the thickness of the cornea, it may affect the biomechanical stability of the cornea. For that reason we avoid Lasik on patients with corneas that are less than 470 microns thick, to avoid future problems with stability.
---
Advantages and relative disadvantages of Lasik
Lasik has been used since the mid-1990s and has produced excellent results. Femto-Lasik is a more recent variant and uses a femtosecond laser instead of a Microkeratome to create the flap, but in all other respects the process and results are identical.

The procedure entails little, if any, discomfort.

Functional vision returns very rapidly and, therefore, both eyes may be done in one session.

Since a local anaesthetic is used, you may leave the clinic almost immediately after the procedure.

Since a flap has to be created, Lasik and Femto-Lasik are more expensive than PRK. However, many patients are willing to pay the premium because of the many other advantages offered by this treatment.

Should a further correction be required, a 3-month waiting period is advised.

Some patients may experience 'dry eyes' and/or halos around bright lights. In the vast majority of cases both these phenomena subside after approximately 3 months.

In rare cases there may be potential flap complications. However, good aftercare, adherence to the doctor's instructions and use of the prescribed medication minimises the risk.
S.M.I.L.E.
Smile is the latest laser technique and is an acronym for Small Incesion Lenticule Extraction. It introduces new levels of precision and several unique characteristics, as well as the established benefits of Lasik.
Procedure: In one pass, the Zeiss Visumax femtosecond laser creates a precisely-shaped lenticule within the upper layers of the corneal stroma, followed by a small 3 to 4 mm incision on the side of the cornea. The shape of the lenticule is similar to a thin contact lens and its dimensions are within sub-micron tolerances of the correction required. Thereafter, the surgeon frees the lenticule and then removes it through the small incision, changing the corneal curvature and correcting the refractive error with minimal intervention.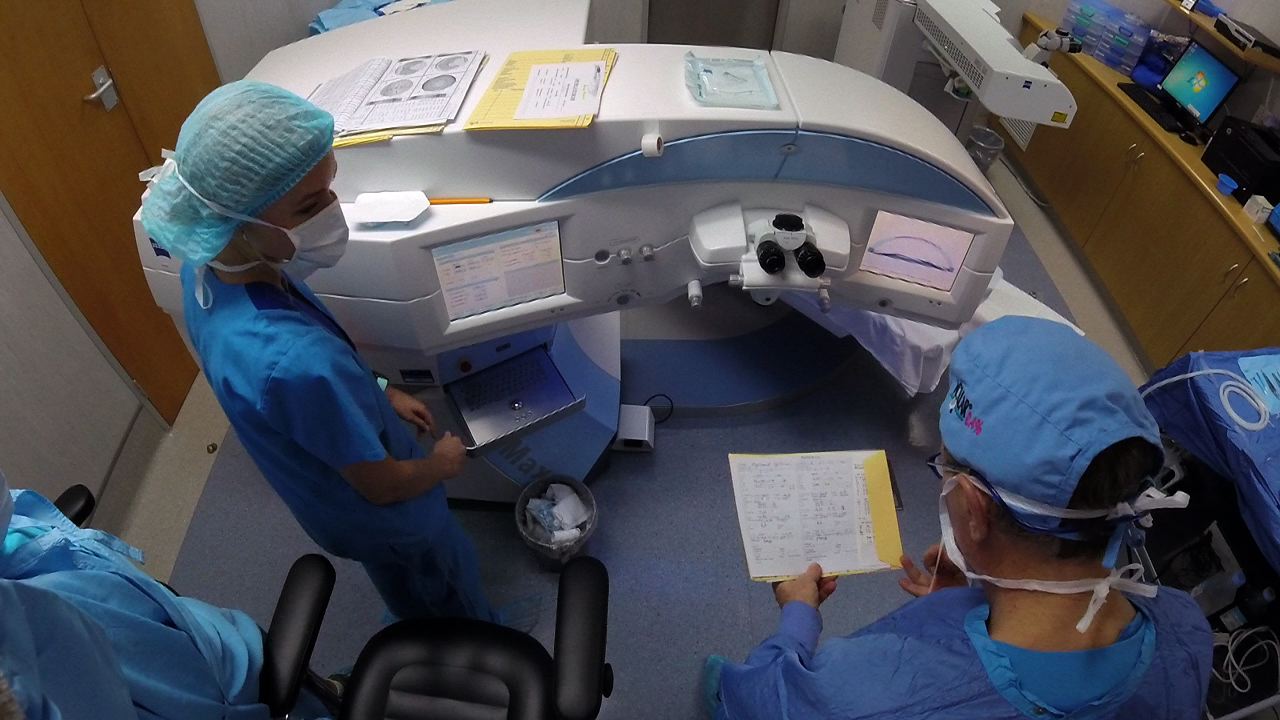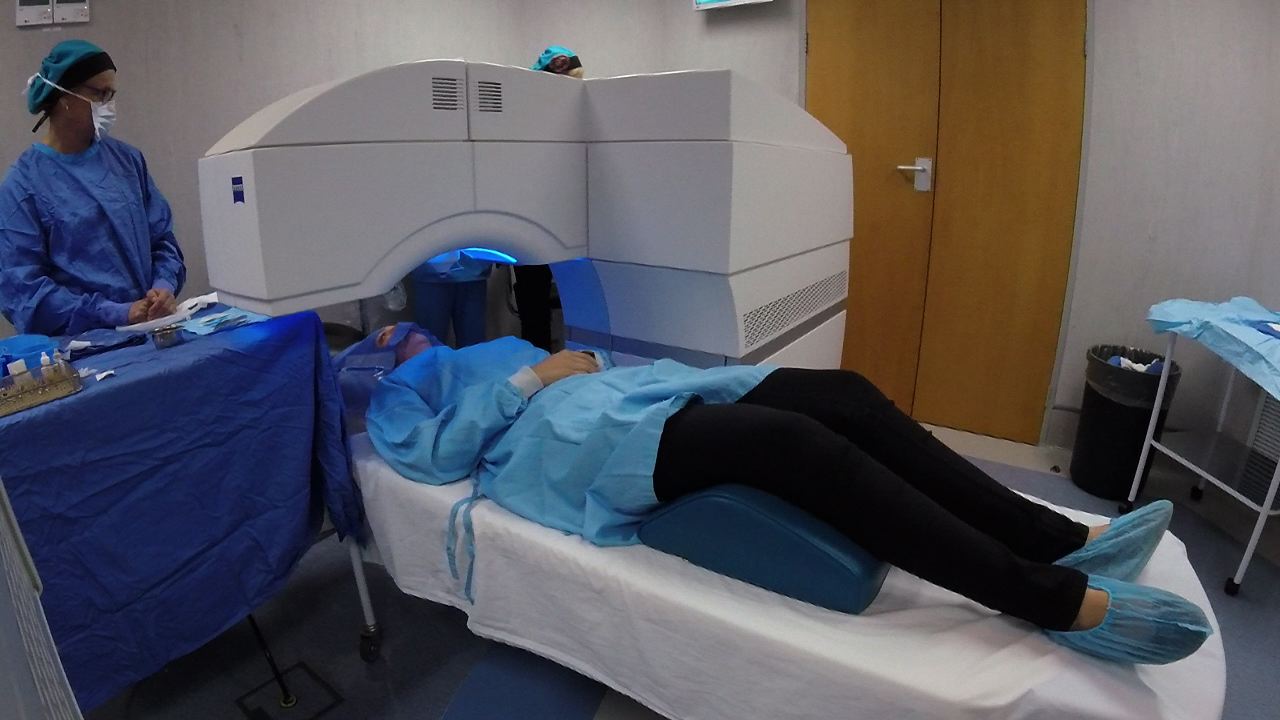 ---
Advantages and relative disadvantages of Smile
The visual outcome is similar to that seen with Lasik and Photo Refractive Keratectomy.

Because of the advanced all-laser procedure and small incision:

The risk of flap complications is negated, as there is no flap.

The risk of infection is extremely small, since the only portal for entry of organisms is the small 3 to 4 mm incision as opposed to the whole edge of the flap in Lasik and FLEx.

The integrity and biomechanical stability of the cornea is largely preserved, which means that your corrected vision should remain stable for many years.

The procedure has excellent predictability, even for high levels of myopia. Therefore, the need for a second procedure to enhance the first is rare.

Because most of the corneal nerves remain intact, patients generally experience less 'dry eyes' compared to Lasik.

It made laser vision correction possible for some patients who would previously have been regarded as unsuitable candidates.

A survey of patients, who had the Smile procedure, shows very high levels of satisfaction with their overall experience and the advantages they experienced:

The unimaginable precision of the equipment.

The extremely good visual results.

The gentle treatment method.

The considerably more freedom without visual aids.

The ability to practice professions, hobbies and sport without restriction.

The increased personal self-confidence.

Smile is a relatively new procedure. As at January 2013 there were only approximately 40 centers worldwide able to perform Smile procedures – Optimed Eye and Laser Clinic being one. However, surgeons who use this procedure and patients that have undergone this treatment are generally very happy with the results, as outlined above.

Because of its extremely high precision and sophistication, Femtosecond laser equipment is considerably more expensive than excimer lasers, which affects the cost of a Smile treatment. Many patients nevertheless regard its advantages sufficiently important to choose it instead of one of the other laser alternatives.
Some Myths Explained
Laser Vision Correction Myths and the Truths Behind Them
It can be confusing to know where to turn for information about laser vision correction. In the recent past, some media reported conflicting stories about these procedures. As a result, many myths about the surgery have developed. Below, we address some of the most common myths about Lasik and other Laser vision corrections. For more information, or to find out if you are a good candidate, call us today.
---
LASIK OR OTHER LASER VISION CORRECTIONS ARE NOT REAL SURGERY.
Fact: Lasik and other laser vision corrections are surgery and should be treated as such. With proper care, it is not a dangerous or risky procedure. There are risks associated with these corrections, as there are with any procedure. However, several clinical studies have identified the chance of serious vision-reducing complications as being extremely low.
---
COMPLICATIONS AND SIDE EFFECTS, SUCH AS NIGHT GLARE AND DRY EYES, SHOULD BE EXPECTED AFTER HAVING A LASER VISION CORRECTION.
Fact: As with any other surgery, there are risks associated with Laser vision correction. Clinical studies of Laser vision correction have documented the risk of having a serious vision-reducing complication as being extremely low. Many complications can be treated if diagnosed and treated at the early stages.
Moderate glare and dry eyes are common side effects immediately following these procedures, but typically last just 3 to six months. Proper testing before the procedure can identify patients who are at a high risk for long-term risk for long-term complications. Some of the advanced Laser vision corrections like Smile, have an extremely low incidence of dry eye due to the way it is done, and is the preferred technique in patients suffering from the condition pre-operatively.
---
LASER VISION CORRECTION IS SO NEW THAT NO ONE REALLY KNOWS IF THERE ARE ANY LONG-TERM SIDE EFFECTS.
Fact: Although Laser vision correction became widely available in South Africa during the mid-1990s, the initial technology was first developed in the 1980s. The first patient to be treated in South Africa was during 1994. To date, no long-term ill effects of the procedure are known. It has thus been around for nearly twenty years.
---
THERE IS ONLY ONE KIND OF LASER USED TO TREAT ALL PATIENTS.
Fact: Actually, there are a number of laser options available that can be used to treat a patient's eyes. After a proper screening and confirmation of the condition that needs to be corrected, a surgeon can identify the most appropriate method of laser needed to treat your condition. Surgeons who have access to a wide variety of laser options, ensure that their patients are treated with the type of laser best suited for their condition. Dr Potgieter have different laser options to choose from. It is not a one-laser-fits all situation at Optimed.
---
IT DOES NOT MATTER WHICH DOCTOR PERFORMS YOUR PROCEDURE. THE OUTCOMES ARE ALL THE SAME, BECAUSE THE LASER DOES ALL THE WORK.
Fact: The surgeon's skill and the level of care he/she offers is an essential element in the success of any surgical procedure. The laser is one of the tools that the surgeon uses to perform the procedure. The surgeon must also create and manipulate the corneal flap or lenticule, which is a delicate surgical procedure.
Two important contributors to the success of the surgery are the pre- and post-operative care. This is best achieved if your surgeon works closely with your own personal optometrist, who is most familiar with your eyes and will continue to care for you years after your procedure. The surgeon, the ophthalmic technicians and your own optometrist, where applicable, should work as a team to provide you with a quality outcome.
---
THE BEST INDICATION OF A SURGEON'S ABILITY IS THE NUMBER OF PROCEDURES HE OR SHE HAS PERFORMED.
Fact: While the number of procedures performed by a surgeon can be a good indication of his or her level of experience, surgeons should not be judged solely on the number of procedures they have completed. Anyone considering the procedure should do their homework before selecting a surgeon. Potential patients should first consult their optometrist to determine if they are a candidate and for recommendations on surgeons. You should also consult your family and friends who have had a Laser vision correction to ask them about their experiences with surgeons.
---
LASER VISION CORRECTION CAN END PATIENTS' NEEDS FOR GLASSES FOREVER.
Fact: While Laser vision correction has proven to be overwhelmingly successful in reducing dependence on glasses and contact lenses, the degree of improvement may vary depending on the individual. Each patient's need for glasses depends on how well he/she heals and the severity of the patient's original prescription. Most patients with mild to moderate prescriptions can achieve 20/20 uncorrected vision or within one to two lines of the 20/20 line on the eye chart. Such success can end a patient's dependence on vision aids for driving, sports and watching television or movies. During the pre-surgical screening, your doctor should be able to determine the range of your probable outcomes. Keep in mind, as a patient ages the need for reading glasses is quite common due to the development of presbyopia.
---
ANYONE WHO WANTS LASER VISION CORRECTION IS A CANDIDATE.
Fact: Not everyone is an appropriate candidate for Lasik, Smile or other forms of Laser vision correction. In fact, potential patients evaluated by many reputable providers are routinely rejected as candidates for the surgery. The best way to determine if you are a candidate is to undergo a thorough screening by your eye doctor. PRK and Lasik can treat patients with myopia, hyperopia and astigmatism. At this time, Smile is only applicable in cases of myopia with/without astigmatism. Appropriate candidates must be at least 20 years old, in good health and have healthy eyes free of diseases such as cataracts and glaucoma. Appropriate screening is the first, and one of the most important stops in preventing complications. Often complications result when surgeons operate on patients who are not appropriate candidates.
---
BECAUSE THE OUTCOMES ARE ALL THE SAME, THE CHEAPEST SURGERY IS NO DIFFERENT THAN THE MOST EXPENSIVE ONE.
Fact: The old adage, 'You get what you pay for,' also applies to Laser vision correction. Patients should remember that they only have one set of eyes and it's probably not a good place to compromise. Patients should be cautious of discount centres that may not be as focused on patient screening and care. Consumers should make sure they are comparing equivalent care and experience when doing their research. Often the more expensive procedures include added benefits that discounters do not offer. These added benefits can include lifetime commitments and follow-up care with your personal eye doctor.
---
LASIK IS STILL BEING DEVELOPED AND NEW TECHNOLOGIES ARE CONTINUOUSLY BEING INTRODUCED. PATIENTS MIGHT BE BEST SERVED TO WAIT UNTIL BETTER TECHNOLOGY COMES ALONG.
Fact: The current Lasik technologies provide better outcomes than ever before. Many refractive surgeons themselves have had Laser vision correction performed on their own eyes. While we see great outcomes for those patients who are found suitable to Lasik, there are still patients who are not candidates due to their unique situation. Newer technologies introduced recently, like FLEx and Smile, may make laser vision correction available to a wider group of potential patients who are not ideally suited to the Lasik technique specifically. There are, therefore, other alternatives to Lasik.